Why Choose Cummins?
Cummins has been powering America for more than 100 years, and the company's latest standby and RV generators are some of the quietest and most efficient models on the market. The factory that makes Cummins home and RV generators also build power supply systems for factory complexes and other commercial buildings. It is widely regarded as the most advanced manufacturing facility of its type in the world. This plant builds generators in several sizes that run on pump gasoline, diesel, natural gas, or propane and offer features like push-button starts and 30-amp outlets. Some Cummins generators even have advanced diagnostic systems that can be accessed by smartphones and tablets.
History
Cummins is a company with a long and interesting history. The first Cummins engines were designed in the corner of a residential garage, but today's Cummins does business in 190 countries, owns 600 distributorships, and has more than 7,000 authorized dealers. Cummins has always been a company that builds from the ground up and focuses on engineering, and its story is a catalog of industry firsts, breakthroughs, and milestones. Let's take a closer look to find out what makes Cummins RV and home generators so good.
Founding and Milestones
The company that we know today as simply Cummins was originally called the Cummins Engine Company, and it was founded in 1919 by Clessie Cummins, J. Irwin Miller, and William G. Irwin. These three men all believed that diesel power would transform America, so they set to work to make their vision a reality. Miller and Irwin provided financial backing and business connections, and Cummins, who had previously worked as an auto mechanic and chauffeur, tackled the engineering challenges.
Miller and Irwin soon realized that Cummins was a prodigy, so they decided to make him the president of their new company. Cummins lacked formal schooling because he had worked on his family's farm, but that did not stop him from using wooden molds and cast iron to make a steam engine when he was a child. After taking the reins in 1919, Cummins dedicated himself to improving technology that had been invented 20 years earlier and largely ignored. The result of this work was the Model F engine, which was introduced in 1921 and featured the world's first direct-injection system.
By this time, the company had moved out of the garage that was its first home and into a former cereal mill in Columbus, Indiana called the Cerealine Building. The company now runs more than a dozen manufacturing plants in the United States, Europe, and Asia, and it also operates the industry's largest technology and research and development center.
In the decades that followed, the Cummins Engine Company used innovative marketing techniques to bring attention to its growing line of fuel-efficient diesel engines. Instead of buying ad space in newspapers and magazines, Cummins got its name mentioned in the press by inviting reporters to cover product demonstrations. One of these was held in 1931 at the Indianapolis Motor Speedway. To prove how reliable his engines had become, Cummins drove a truck powered by a Model H engine around the race track for 14,600 miles without stopping. The following year, he drove a 32-seat bus powered by one of his engines from New York to Florida. The bus reached speeds of up to 80 mph during the 1,275-mile trip, but it only burned $2.30 worth of fuel.
Motor racing was a popular spectator sport in the 1930s, so Cummins decided to use events like the Indianapolis 500 to showcase what his engines could do. Cummins drove in the race himself and finished 13th in 1931, but it was his engine that everybody talked about. The diesel power plant propelled the Duesenberg Cummins drove to speeds close to 90 mph, and it completed the grueling race on a single tank of fuel.
This unconventional marketing style worked really well for Cummins, and the company's N Series engines would go on to dominate the logistics sector for decades. As the 1950s drew to a close, more than half of the heavy trucks in the United States had Cummins engines under their hoods. That sales success helped the company to grow into a global colossus that manufactures filtration and power generation systems as well as engines and employs more than 60,000 people.
Production and Manufacturing
Several companies make standby and portable generators, so what makes products that bear the Cummins logo stand out? To get to the bottom of that question, we should look at both the products themselves and the factory that makes them.
Products
Some Cummins commercial generators can deliver power to entire factories, but we will concentrate on the company's standby and portable models. Cummins may not make the cheapest generators on the market, but quality usually comes with a slightly higher price tag. One thing that you can be sure of with a Cummins generator is that it will work when you need it. This is because the company subjects its products to a series of grueling tests before it releases them. Before they go on sale, Cummins generators are run at full power in temperatures as low as -20 degrees Fahrenheit and as high as 120 degrees Fahrenheit. They are also operated in humid conditions and exposed to clouds of thick dust and salt spray.
This focus on testing and product quality has earned Cummings a reputation for reliability and toughness, and it may be the reason why the U.S. Department of Defense chose this company to supply it with Advanced Medium Mobile Power Source generators. Since winning this contract in 2007, Cummings has delivered more than 25,000 AMMPS generators to the various branches of the U.S. military.
Cummins standby generators are designed to spring into action and provide power when a home's electricity supply is interrupted. The company makes generators that can produce an enormous amount of power, but most homeowners choose backup models rated at 13,000 or 20,000 watts. Here are some of the reasons why Cummins standby generators are so popular:
Compact dimensions: Cummins squeezes a lot of power generation into a small package, which means you can install one of the company's standby models just 18 inches from your home.
Quiet motors: The Cummins line of QuietConnect standby generators has enclosures that have been engineered to keep bad weather at bay and reduce noise. They produce only 65 decibels of sound when they are running, which is about the volume of a normal conversation.
Load management technology: You won't have to do any elaborate math to find out how long you can keep appliances plugged into a Cummings standby generator because these models have technology that crunches the numbers for you.
Automatic transfer switches: Cummings standby generators switch themselves on automatically whenever power supplies are interrupted, which means you won't come home to a freezer full of spoiled food even if your home has an outage while you are out.
Connected for convenience: Gas and diesel fuel only last for a few years before they become unusable, and storing large quantities of either in a house can be dangerous. Cummings connects its standby generators to a home's natural gas or propane supply, so spoiled fuel is not something that you need to worry about.
Cummins portable generators and RV models can run on gasoline, diesel, or propane, and pushing a button is all it takes to start them. RV models can be permanently mounted to prevent theft and connected to a vehicle's fuel supply to run longer. An Energy Command feature allows their performance and features to be monitored remotely. Portable models feature wheels and handles to make moving them around a lot easier, and their variable-speed permanent magnet alternators reduce noise and vibration and improve fuel efficiency. If you would like more details about the various types of generators Cummings offers, you can find a lot of useful information on our main generators page.
Manufacturing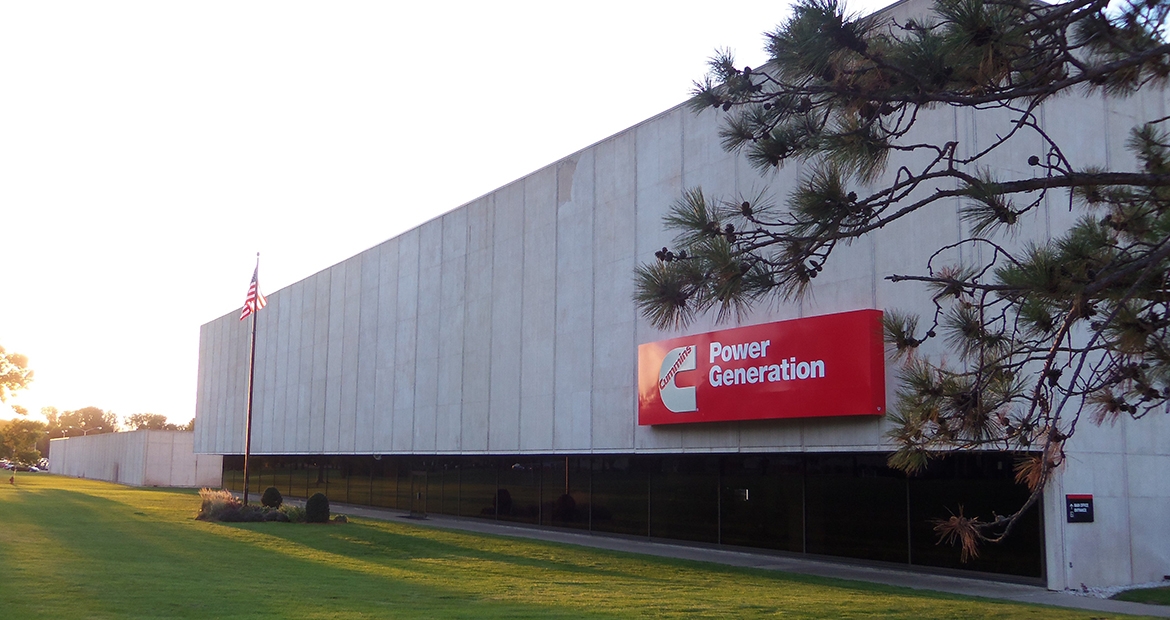 Cummins standby, portable, RV, and commercial generators are developed and built in the United States and have been certified as "Buy America" products by the federal government. Cummins operates several manufacturing facilities in North America, but its power generation products are all made at a state-of-the-art plant in Fridley, Minnesota. Located just a short distance from Minneapolis, the Fridley campus includes a factory that covers almost half a million square feet, an office building, an engineering building, and several labs and testing centers. The plant was originally built by Onan in 1969.
Hundreds of millions of dollars have been invested over the years to ensure the Fridley facility has the latest and best machinery and equipment available. Some of this money was spent on building the world's largest acoustical test center, which is used to make sure Cummins generators meet the company's strict noise standards. The facility currently employs more than 800 factory workers who produce generator sets, switchgear, and controls ranging in power output from 2 to 3,500 kilowatts.
Key Facts
Cummins takes its climate responsibilities seriously and has a sustainability program that aims to make the company carbon neutral by 2050. Since 2014, these efforts have reduced the company's carbon dioxide emissions by 21.7 million metric tons. The sustainability program has also reduced the amount of water Cummins uses by 20% and helped the company to achieve a 93% recycling rate. Results like this have attracted a lot of attention from the media and climate advocacy groups. In November 2021, Cummins was among the first 45 recipients of the Terra Carta seal, which is awarded by the Sustainable Markets Initiative to businesses that have taken concrete steps toward decarbonization.
The company is a champion of diversity and equality in the workplace. Cummins appointed its first female vice president in 1976, and women now make up more than 50% of the company's executive team. Cummins also works with nonprofit groups and local leaders to support equal rights around the world. In just three years, these efforts have improved the lives of 98,000 girls and women in 18 countries.
Warranty Information
Cummins was the first manufacturer to back its engines with a 100,000-mile warranty, so it goes without saying that the company has a great deal of faith in its products. Here is a breakdown of the protection you will have if you purchase a Cummins generator:
Standby generators: Cummins 13-, 17-, and 20-kilowatt generators are backed with a warranty that lasts for five years or 2,000 hours. Generators that produce between 25 and 125 kilowatts of power are backed for two years. These warranties cover all major components.
RV generators: Cummins RV generators that are installed in vehicles are covered for three years or 2,000 hours. When they are used in other settings, the coverage is reduced to one year or 1,000 hours.
Portable generators: Cummins backs its portable generators with a warranty that covers all parts for two years and major components for three years.
Consumers who would like even more protection can purchase extended warranties from the company that add as many as five years of coverage. Like all Cummins warranties, these plans provide protection against defects in workmanship or manufacturing but do not apply when damage or problems are caused by misuse or accidents. Registering a generator with Cummins can be done online and only takes a few minutes, but it is not required to receive warranty coverage.
Cummins Generator Parts
Cummins produces millions of parts each year, and they can all be found in the company's online parts catalog. This parts catalog can be accessed on the Cummins parts and accessories website. To find the parts you need, just click on the "Power Generation" link at the bottom of the page and then enter your generator's serial number in the search box provided. The site also has links to product manuals and datasheets. Product diagrams are clearly marked, and component descriptions have photographs to make sure consumers and repair facilities order only the parts they actually need. Items that are ordered frequently are usually in stock and shipped quickly.
Check Out More Cummins Content From GeneratorTools
If you want to know how to choose the right generator, you can find information that will help you at GeneratorTools. Our content hubs have product reviews and roundups that you can use to narrow down your search and press release and recall pages that give you access to important information in a timely manner. GeneratorTools can also help you to find the best deal on a standby or portable generator.
Cummins Generator Reviews
Every generator company claims to make durable and reliable products, so who should you believe? Our reviews get to the bottom of this question with detailed analysis, comprehensive specifications, and information that you won't find anywhere else. We let you know about the features that set generators apart and the kind of service you will receive if you have a problem. We also give you a detailed list of pros and cons and tell you what consumers have said about Cummins generators in online reviews.
Cummins Generator Roundups
You may find our product roundups especially useful if you have decided to buy a Cummins generator but have not settled on a particular model. These roundups are basically mini reviews of popular products that deliver all the most important information in a clear and concise way. They will give you a generator's basic specifications, tell you about its most impressive features, and sum everything up with a list of advantages and disadvantages.
Cummins Generator Releases
The generator market is constantly evolving as manufacturers make improvements, introduce new products and withdraw old models. Keeping up with all these changes would be difficult even for consumers with a lot of time on their hands, but you don't have to worry about that because GeneratorTools has done all the hard work for you. Our press release pages are where you can find out about new Cummins generators and incentive programs, and we post the information almost as soon as it is released.
Cummins Generator Recalls
Companies like Cummins take great pride in their products and how they are made, so they rarely announce recalls. When a Cummins generator is recalled, GeneratorTools makes sure that you find out about it quickly. We let you know which generators are being recalled and tell you about the problem that prompted the company to take this action. We also provide details about the steps being taken by Cummins to address the issue and let you know how quickly a remedy will be available.
Where to Buy
Cummins has thousands of authorized dealers in the United States and around the world, but not all of them offer great prices. If you want to save money on a Cummins generator, our Where to Buy pages are one of the first resources to check. This is where you will find out about dealers that offer attractive prices, have a large inventory of generators in stock, and provide excellent customer service.
Similar Brands
Cummins makes excellent propane, natural gas, diesel, and gasoline generators, but there are other brands that you might want to consider. Other brands worth considering include:
Online Presence
Cummins is a major manufacturer that has been in business for more than 100 years, and its website is packed with useful information. The company is also active on the most important social media platforms. If you want to learn more about Cummins and its products, check out these links:
Contact Information
If you have a question that only a Cummins representative can answer, visit the company's website and click on the Customer Assistance link. When you do, you will be able to choose from these four options:
The knowledge database: If the question you have has been asked before, you may be able to find the answer in the Cummins knowledge database. Just type your question into the search box to find out.
Email: If you want to send Cummins a message, you can click on the email link to open an online form. Cummins usually responds to messages within 24 hours.
Live chat: If you prefer sending text messages to making phone calls, you can start a conversation with a Cummins representative by clicking the Live Chat link.
Phone: In the United States and Canada, you can reach a Cummins representative during normal business hours by calling (800) 286-6467.