Why Choose Briggs & Stratton?
Briggs & Stratton has more than 110 years of manufacturing experience and is trusted by people in every part of the world. The company made its name by producing small, powerful, and highly efficient engines for the outdoor power equipment industry, and nine of the 10 leading lawnmower manufacturers still use its motors. Briggs & Stratton engines can also be found powering fishing boats in Vietnam, milking machines in Mexico, and sugar cane crushers in the Caribbean.
The company started making its own consumer products in 2000 after forming Briggs & Stratton Power Products, which quickly became America's leading manufacturer of residential power-generating equipment. Today, Briggs & Stratton is a global company with more than 30,000 dealers on six continents, but most of the products it sells in North America are still made in the USA. If you are looking for a standby or portable generator that is backed by more than a century of innovation and engineering excellence, Briggs & Stratton is a brand worth considering.
History
Briggs & Stratton is known today for its range of air-cooled gasoline engines and its dependable, durable generators, power washers, and snow blowers, but the company has produced everything from electric refrigerators to paper towel dispensers during its long and remarkable history. Let's take a closer look at that history and some of its most important milestones.
Founding and Milestones
Briggs & Stratton's story began in 1908 when inventor Stephen Foster Briggs and investor Harold M. Stratton decided to go into business together to take advantage of opportunities in the new and rapidly growing automobile industry. Instead of building their own cars, the entrepreneurs focused on producing parts like igniters, locks, and starter switches.
The two men entered the engine business when they purchased the rights to manufacture a small gasoline motor from the A.O. Smith Company in 1919. After improving the engine and increasing its horsepower, the entrepreneurs fitted it to a small car they named the Briggs & Stratton Flyer and sold for just $125. That car was not a success in terms of sales, but its engine went on to power lawnmowers, tractors, cultivators, and washing machines.
The improvements Briggs made to the motor also gave rise to the Type P engine that revolutionized the industry and helped Briggs & Stratton to become the world's largest manufacturer of air-cooled engines. The company set up a nationwide service organization in 1930, and it now has the world's largest network of authorized dealers in the power generation industry.
Briggs & Stratton put domestic production on hold during World War I and World War II to focus on making engines and parts for the U.S. military. These components included fuse caps, ignition switches, and transmissions. The quality of these parts impressed the War Department, which is why the company was one of the first manufacturers to receive the Army-Navy "E" award. Manufacturers only received this award if they maintained fair labor standards, overcame production obstacles, and delivered exceptional parts in significant quantities.
In 1953, Briggs & Stratton revolutionized the engine industry for the second time when it released the world's first lightweight aluminum motor. The company had experimented with aluminum during World War II because steel was in very short supply, and it put that research and development work to good use when the war ended. The engine was a huge commercial success because it was introduced at a time when suburbs were being built and more Americans had lawns to mow.
Many companies would be content after developing a paradigm-shifting product like the aluminum engine, but Briggs & Stratton was just getting started. The company's other innovations include:
The Sleeve-Bore engine: Aluminum engines are lightweight and powerful, but they are not as durable as cast iron motors. Briggs & Stratton combined the advantages of both motor types when it unveiled the Sleeve-Bore engine in 1958. This was an aluminum engine with a cylinder liner made out of cast iron.
The Synchro-Balanced engine: Engines with only one cylinder are very efficient, but their reciprocating mass causes a lot of vibration. The Synchro-balanced engine, introduced in 1966, had counterweights placed opposite the crankpin to reduce vibration.
The hybrid car: Many manufacturers started to experiment with hybrid vehicles after the fuel crisis of the early 1970s, and Briggs & Stratton led the way. In 1980, the company unveiled the world's first automobile that had both gasoline and electric motors. The car was not put into production, but it showed what was possible and paved the way for future hybrid vehicles.
Solid-state ignitions: The Magnetron ignition introduced by Briggs & Stratton in 1982 improved both performance and reliability by eliminating points and condensers. This kind of technology is now used by all the world's leading engine manufacturers.
Production and Manufacturing
Briggs & Stratton still produces more than 9 million engines every year, but we will focus on the company's range of standby and portable generators. We will also take a look at the factories that make these products and find out what makes Briggs & Stratton stand out from other generator manufacturers.
Products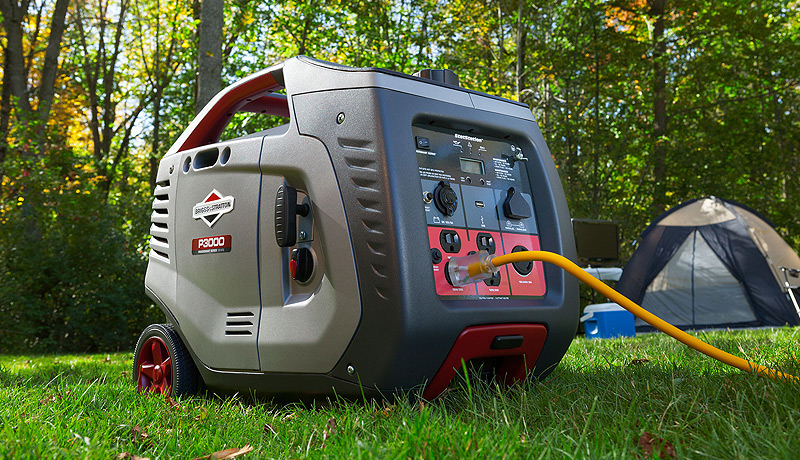 Briggs & Stratton produces 10 different portable generators, so there is bound to be a model that fits your needs and budget. No matter which one of these generators you choose, you can be sure it will be packed with features designed to make your life less stressful. The benefits of using these portable generators include:
Smooth backup power: Briggs & Stratton portable generators use invertor technology to provide smooth backup power and avoid the damage that power interruptions can do to sensitive electronic components.
Peace and quiet: The QuietPower series of portable generators are more than 60% quieter than standard generators, but they are still powerful enough to deliver up to 6,500 starting watts.
Fuel efficiency: Briggs & Stratton's invertor technology reduces weight and improves fuel efficiency. This is why their generators can run for up to 14 hours before needing more fuel.
Compact designs: Nobody enjoys lugging a large and heavy generator around, which is why Briggs & Stratton has developed models that are 30% lighter and 45% more compact than other generators.
Portability: PowerSmart series generators pack a lot of power into a small package and have telescopic handles and wheels that make them easy to move from place to place.
Cascading power: If you have a PowerSmart generator but still need more electricity, you can connect it to another PowerSmart generator thanks to its dual parallel outlets.
Automatic power output: PowerSmart, QuietPower, and Elite series portable generators all monitor power consumption constantly and adjust the amount of electricity they produce accordingly.
Clear controls: You won't have to use dipsticks or read dials to know how a Briggs & Stratton generator is performing because they have fuel gauges and easy-to-read LED displays.
Convenience: A generator is not very useful if you can't plug your devices into it. That's not a problem with Briggs & Stratton models because they have household outlets, appliance outlets, USB ports, DC charging stations, and RV adaptors.
Bluetooth connectivity: You can monitor the power usage, fuel level, and run time of Elite series generators from a laptop, tablet, or smartphone thanks to Bluetooth connectivity. The Elite series InfoHub also sends service reminders and other notifications.
Carbon monoxide monitoring: Briggs & Stratton's monitoring technology keeps track of carbon monoxide and shuts down generators when levels of the dangerous gas become harmful.
Briggs & Stratton's standby generators provide between 10,000 and 26,000 watts of backup power, and the company's installation technology can reduce the costs of installing one of these powerhouses by up to 60%. There are also non-emergency generators that can provide power for an entire house in off-the-grid locations. Briggs & Stratton's standby generators can be fueled by either propane or natural gas, and they can be programmed to prioritize up to eight appliances to make sure that they send power to where it is needed the most. This feature combined with load management technology allows a smaller and less expensive generator to handle power demands that would have once required a much larger unit. If you would like to know more about Briggs & Stratton portable or standby generators, visit our main generators page.
Manufacturing
Briggs & Stratton gas-powered generators sold in North America are made in factories in the United States. The company's main research and development center is located in Wauwatosa, Wisconsin. Its testing facility is in Fort Pierce, Florida, and it manufactures its products at factories in Sherrill, New York; Poplar Bluff, Missouri; Auburn, Alabama; and Statesboro, Georgia. The company also operates manufacturing plants in Canada, Mexico, Australia, Brazil, the Netherlands, and China.
All these factories are packed with some of the most advanced machinery in the power generation industry. Briggs & Stratton keeps its prices low by investing in manufacturing equipment that performs tasks automatically and does not make mistakes. If you were to visit one of these facilities, you would see robots assembling generators that are transported on autonomous sleds. You would also notice LED displays that are used to keep track of and diagnose the machinery. In addition to using some of the most sophisticated manufacturing equipment available, the company's U.S. facilities employ more than 3,000 people.
Before portable and standby generators are put into production, they are thoroughly tested and evaluated. Generators are run at full power in extreme temperatures, and they are exposed to powerful jets of water, salt spray, and winds of up to 186 mph to ensure that they can withstand years of exposure to the elements. Long-term durability tests are run to ensure power delivery will be consistent, and a state-of-the-industry sound lab measures hundreds of data points to ensure noise levels meet strict standards.
Key Facts
When natural disasters strike and demand for power-generating equipment surges, Briggs & Stratton answers the call by deploying Rapid Response Teams to the affected areas. These teams were sent to Haiti following a catastrophic earthquake, and they were also dispatched to Japan when a tsunami left large parts of the island nation without power. The company has also donated more than $1 million worth of generators to help the American Red Cross prepare for natural disasters and power outages in the United States.
Briggs & Stratton prepares in advance for surging demand by strategically storing large numbers of generators in warehouses in Wisconsin, California, Texas, Alabama, North Carolina, and New Jersey. The company does this to make sure that generators will be available to those in need and prevent price gouging. In addition to its disaster relief work, Briggs & Stratton donates to causes that promote health and the arts. The company sponsors the United Way, the American Cancer Society's Relay for Life, and Summerfest, one of the largest music festivals in the world.
Warranty Information
Unlike the warranties offered by other generator manufacturers, Briggs & Stratton offers protection that covers parts, labor, and travel expenses. Depending on the type of generator, this coverage can last for four, five, six, or 10 years. Most generator warranties are far shorter or only cover major components like engine short blocks and alternators, but Briggs & Stratton covers even the smallest parts.
Consumers do not have to register their generators to receive this protection, but they could receive a $200 gift card if they do under the company's "Click, register, and win" program. Registration also reduces the amount of time it takes to process warranty claims and ensures that generator owners receive important notifications quickly. When repairs are required, Briggs & Stratton has the largest authorized dealer network of any generator manufacturer.
Brand & Stratton Generator Parts
Obtaining parts for a Briggs & Stratton generator is as easy as visiting the company's website, clicking on the Parts tab, and entering a model number in the search box provided. Parts ranging from fuel caps to engine components are displayed clearly with photographs and dimensions, and people who order parts receive tracking numbers by email so they know exactly when to expect delivery.
Check Out More Briggs & Stratton Content From GeneratorTools
If this brief look at Briggs & Stratton's history and products has left you wanting to know more, you can find plenty of other useful content on GeneratorTools. We do the research and heavy lifting so that you don't have to, and then, we make the information easy to access with reviews, product roundups, and recall and press release pages. If you want to know how to choose the best portable generator, GeneratorTools has the answer.
Briggs & Stratton Generator Reviews
When you have narrowed down your generator search to a few models, our reviews could help you make your final decision. We cover generators in depth with detailed specifications and descriptions, and we also point out features that make each model stand out. We then tell you what consumers have said about generators in online reviews, and we finish up by giving you a list of advantages and disadvantages. You could take your chances, but why buy a portable generator before gathering information that could help you avoid bad decisions?
Briggs & Stratton Generator Roundups
You will find our product roundups useful if you have decided on a generator manufacturer but are unsure about which model to buy. These roundups are basically collections of mini reviews that concentrate on the most important information. They give you specifications, list essential features, and tell you what makes each generator great.
Briggs & Stratton Generator Press Releases
If improvements are announced for Standard series generators or rebates are put on PowerSmart models, our press release pages are where you will find out about them first. If you don't want to find out that you could have saved more money or bought a generator with more features, check these pages before you click "Buy now."
Briggs & Stratton Generator Recalls
Even the best products are recalled from time to time, and generators are no different. When generators are recalled, our recall pages will let you know why. They will also tell you what model numbers are covered by the recall and what is being done to help consumers.
Where to Buy
Choosing where to buy a generator can be almost as difficult as deciding which model to purchase, but GeneratorTools takes the mystery out of price shopping. We watch all the major retailers closely to make sure that our visitors always get the best deals. We also make sure that online retailers have enough inventory to meet demand and back up their prices with easy return policies and great customer service.
Similar Brands
A lot of companies make excellent generators, so Briggs & Stratton is not your only choice if you are looking for reliable portable or backup power. If you would like to know what other manufacturers have to offer, GeneratorTools has the information you want. The brands we cover include:
Online Presence
Briggs & Stratton is a Fortune 1,000 company, so it goes without saying that it has a significant internet presence. The company's website is easy to navigate on a desktop or portable device, and you can also learn about its products on major social media platforms. If you want to find out about the company's latest offerings, here are some links that could help you:
Contact Information
For a company with such a diverse range of quality products, Briggs & Stratton does not provide consumers with much in the way of contact options. The company's website does not have any live chat links or online forms, but it does have an https://www.briggsandstratton.com/na/en_us/support.html owner support page that provides the following customer service telephone numbers:
You could also look for answers in the company's comprehensive list of frequently asked questions, or you could use its dealer locator to find an authorized sales and service facility in your area.